Back
Julia Madigan Takes 2018 Uplands Under 25 Jumping National Championship
Julia Madigan, 22, of Vancouver, BC bested a field of 13 up-and-coming athletes from coast-to-coast to win the 2018 Uplands Under 25 (U25) Jumping National Championship on Nov. 10 at the Royal Horse Show in Toronto, ON.
"It's pretty special to have won," said Madigan, who was riding Farfelu du Printemps (Action Breaker x Darco), a 13-year-old Belgian Warmblood gelding owned by her father, John Madigan. No strangers to the winner's circle at The Royal Horse Show, the duo earned the 2017 1.40m Junior/Amateur Jumping Championship title. "I think the U25 is a bit more competitive and a bit bigger than the Junior/Amateur, so it's an extra boost for me."
Madigan took an early lead in the two-part series final after riding to the fastest clear round on Nov. 8 to win the $12,500 Alfred Rogers 1.45m U25 National Championship – Phase I.

Julia Madigan, 22, of Vancouver, BC claimed the 2018 Uplands Under 25 National Championship aboard Farfelu du Printemps on Nov. 10 at the Royal Horse Show in Toronto, ON.
Photo Credit - © Cealy Tetley - www.tetleyphoto.com

Held as a speed round, the Phase I course consisted of 11 jumps and 14 efforts, and offered plenty of options for inside turns to shave down time. Madigan took advantage of every one of them to stop the clock in 58.80 seconds. This gave her the win by a margin of more than three seconds over the only other rider in the field to go clear – Veronica Bot, 22, of Burlington, ON, who had a time of 61.02 aboard Quidam's Caprice M, a 12-year-old Oldenburg mare sired by Calido I and owned by the AEI Corp.
Madigan returned to the ring on Nov. 10 for Phase II, where she piloted Farfelu du Printemps to a clear round over the challenging course that featured a liverpool, triple bar, and triple combination, earning her berth into a five-way jump-off. There, the duo had the fastest time of 34.91 seconds, but a toe on the rail at the second fence added four faults to their score for third place. Having earned 11 points over the two phases, Madigan was crowned the 2018 Uplands U25 National Champion.
Making the win even more impressive was the fact that Madigan, who is a full-time student completing her fourth and final year of Mechanical Engineering at Queen's University in Kingston, ON, wasn't able to spend much time in the saddle prior to the Royal.
"I came to the Royal this year straight from school, and it's been a couple of really busy weeks, so I haven't been riding as much as I would have liked to," explained Madigan. "But, I have an unreal horse; he's amazing. And my coach, Jill Henselwood, has been a huge help. She's been riding him for me while I'm at school, so he's really been in top form this week because of her, and I'm so thankful."
In fact, Henselwood, an Olympian from Oxford Mills, ON who helped the Canadian Show Jumping Team earn the silver medal at the 2008 Beijing Olympics, has also enjoyed success in the ring at the Royal Horse Show aboard Farfelu du Printemps. In 2015, she proved the gelding's talent after winning the Canadian Show Jumping Championships.
Madigan hopes to follow in Henselwood's footsteps and move up to the national team level, with the goal of donning the iconic red jacket and representing the senior Canadian Show Jumping Team in a nations cup competition in the near future. Despite her young age, Madigan already has team experience aboard Farfelu du Printemps, having brought home individual gold and team silver medals from the 2017 Adequan/FEI North American Junior & Young Rider Championships (NAJYRC) in Saugerties, NY
As for the immediate future, Madigan said, "The U25 is a stepping stone onto some of my other goals. I definitely want to jump more at the FEI level and get more consistent. That is my main goal."
Taking the Reserve Champion title in the Uplands U25 Jumping National Championship was Brennan McCullagh, 19, of Stonewall, MB aboard his eight-year-old Belgian Warmblood mare WKM Xenia, sired by Cat Weasel Z. In Phase II, McCullagh was the first of the five jump-off contenders to achieve a clear round, coming in at 35.66 seconds. His time would prove to hold for the win after the only other clear combination, Kassidy Keith, 20, of Nanaimo, BC and her 12-year-old Canadian Sport Horse gelding, Crackerjack, sired by Cotopazi, crossed the timers just off the pace in 36.58 seconds for second place.
Having also taken fifth place in Phase I for a four-fault effort in 62.16 seconds, McCullagh earned a total of nine points over the two phases for the Reserve Championship.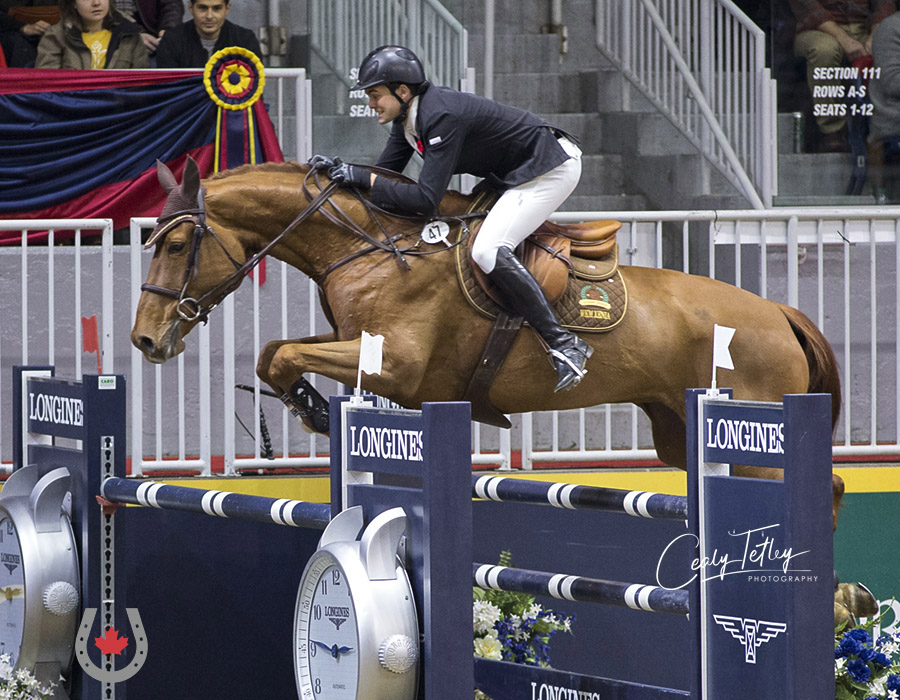 Brennan McCullagh, 19, of Stonewall, MB won Phase II and the 2018 Uplands Under 25 Reserve Champion title aboard WKM Xenia. Photo Credit - © Cealy Tetley - www.tetleyphoto.com
As the National Champion, Madigan received a saddle provided by Antares Sellier, and a cooler presented by the Equestrian Canada (EC) Jumping Committee. In addition, plates for the class winners and prize money were generously donated by the Uplands Charitable Foundation in memory of the late Alfred Rogers.
For full results from the 2018 Uplands U25 Jumping National Championship, visit www.royalfair.org .
About the U25 Series
The U25 series is part of the Young Riders Development Program, which was spearheaded by the Equestrian Canada (EC) Jumping Committee to help increase participation and improve performance at the FEI Children, Junior and Young Rider level. By providing youth with a pathway to become involved in the sport of jumping from an earlier age, the Jumping Committee is paving the way for a strong pool of future Canadian Equestrian Team athletes to represent Canada on the world stage. More information on the U25 series can be found at www.equestrian.ca/sport/jumping/athlete-development .
$12,500 Alfred Rogers U25 National Championship – Phase 1
Placing / Rider / Hometown / Horse / Owner
1st / Julia Madigan / Vancouver, BC / Farfelu du Printemps / John Madigan
2nd / Veronica Bot / Burlington, ON / Quidam's Caprice M / AEI Corp.
3rd / Barbara Ruziska / Ijamsville, MD / Dynamite / Barbara Ruziksa
4th / Kassidy Keith / Nanaimo, BC / Crackerjack / Kassidy Keith
5th / Brennan McCullagh / Stonewall, MB / WKM Xenia / Brennan McCullagh
6th / Alexanne Thibault / Boucherville, QC / Chacco Prime / Alexanne Thibault
7th / Nicole Walker / Aurora, ON / Chaloubet / Nicole Walker
8th / Sam Walker / Nobleton, ON / Acardi du Houssoit Z / Sam Walker

$12,500 Alfred Rogers U25 National Championship – Phase II

Placing / Rider / Hometown / Horse / Owner
1st / Brennan McCullagh / Stonewall, MB / WKM Xenia / Brennan McCullagh
2nd / Kassidy Keith / Nanaimo, BC / Crackerjack / Kassidy Keith
3rd / Julia Madigan / Vancouver, BC / Farfelu du Printemps / John Madigan
4th / Jacqueline Steffens / Harriston, ON / Freaky Liefhebber / Double C Stables
5th / Alexanne Thibault / Boucherville, QC / Chacco Prime / Alexanne Thibault
6th / Barbara Ruziska / Ijamsville, MD / Dynamite / Barbara Ruziksa
7th / Veronica Bot / Burlington, ON / Quidam's Caprice M / AEI Corp.
8th / Nicole Walker / Aurora, ON / Chaloubet / Nicole Walker