Back
Canadian Show Jumping Team Wins Longines FEI Jumping Nations Cup™ Canada at Thunderbird!
The Canadian Show Jumping Team decisively won the $400,000 Longines FEI Jumping Nations Cup™ Canada held Sunday, June 2, during the CSIO5* Odlum Brown BC Open tournament at Thunderbird Show Park in Langley, BC.
Lisa Carlsen of Okotoks, AB; Mario Deslauriers of New York, NY; Tiffany Foster of North Vancouver, BC; and Nicole Walker of Aurora, ON, comprised the home side's formidable four-member team.
On the strength of three clear performances in the opening round from Carlsen, Walker, and Deslauriers, Canada led the way with a score of zero at the half-way point. Ireland, Mexico, and the United States were tied for second on eight faults apiece while Israel trailed with 16 faults.
The clear rounds kept on coming for Canada in the second round, with lead-off rider Carlsen, 54, again jumping clear with Parette, her 13-year-old bay Brandenburg mare (Passoa VDL x Barinello).

Lisa Carlsen of Okotoks, AB, and her Parette. Photo by Cara Grimshaw
Walker followed suit, jumping double-clear with Falco van Spieveld, her 14-year-old bay Belgian Warmblood gelding (Toulon x Lys de Darmen). The pair are currently the reigning Canadian Show Jumping Champions.

"There were a lot of fans here cheering for us and we really came together as a team," said Walker, 25, who was making her third Nations' Cup appearance. Of her mount, Falco van Spieveld, Walker noted, "He's the chillest horse at home. He knows his job, he's a cool customer, and I'm glad to have him."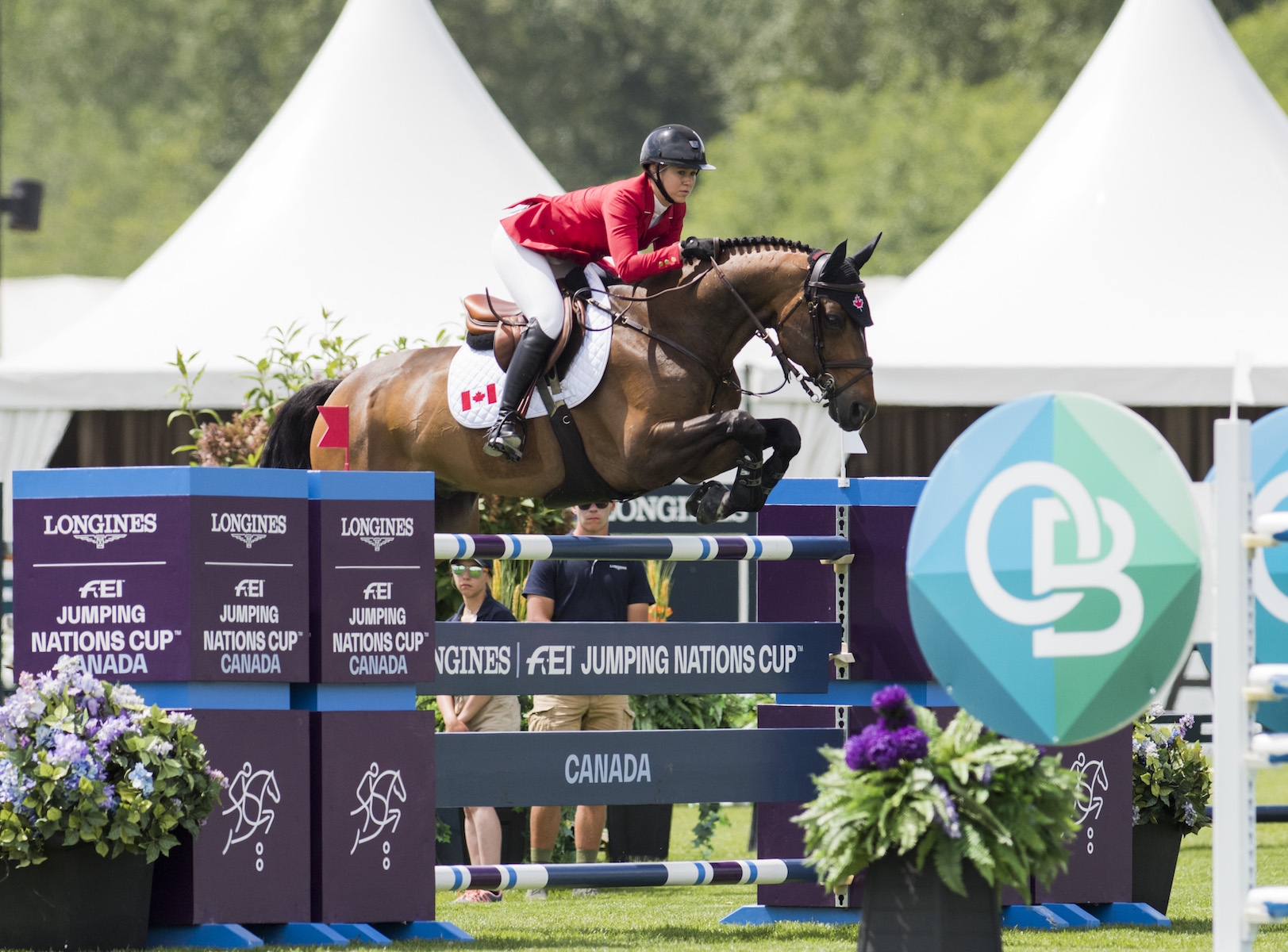 Nicole Walker of Aurora, ON, and her Falco van Spieveld. Photo by Cara Grimshaw
Foster, 34, repeated her first-round performance, dropping a single rail for four faults riding Figor, a nine-year-old Dutch Warmblood gelding (VDL Groep Zagreb x C-Indoctro) owned by Artisan Farms LLC. With only four faults to count on its scoresheet, Canada had victory all sewn up without anchor rider Deslauriers needing to return.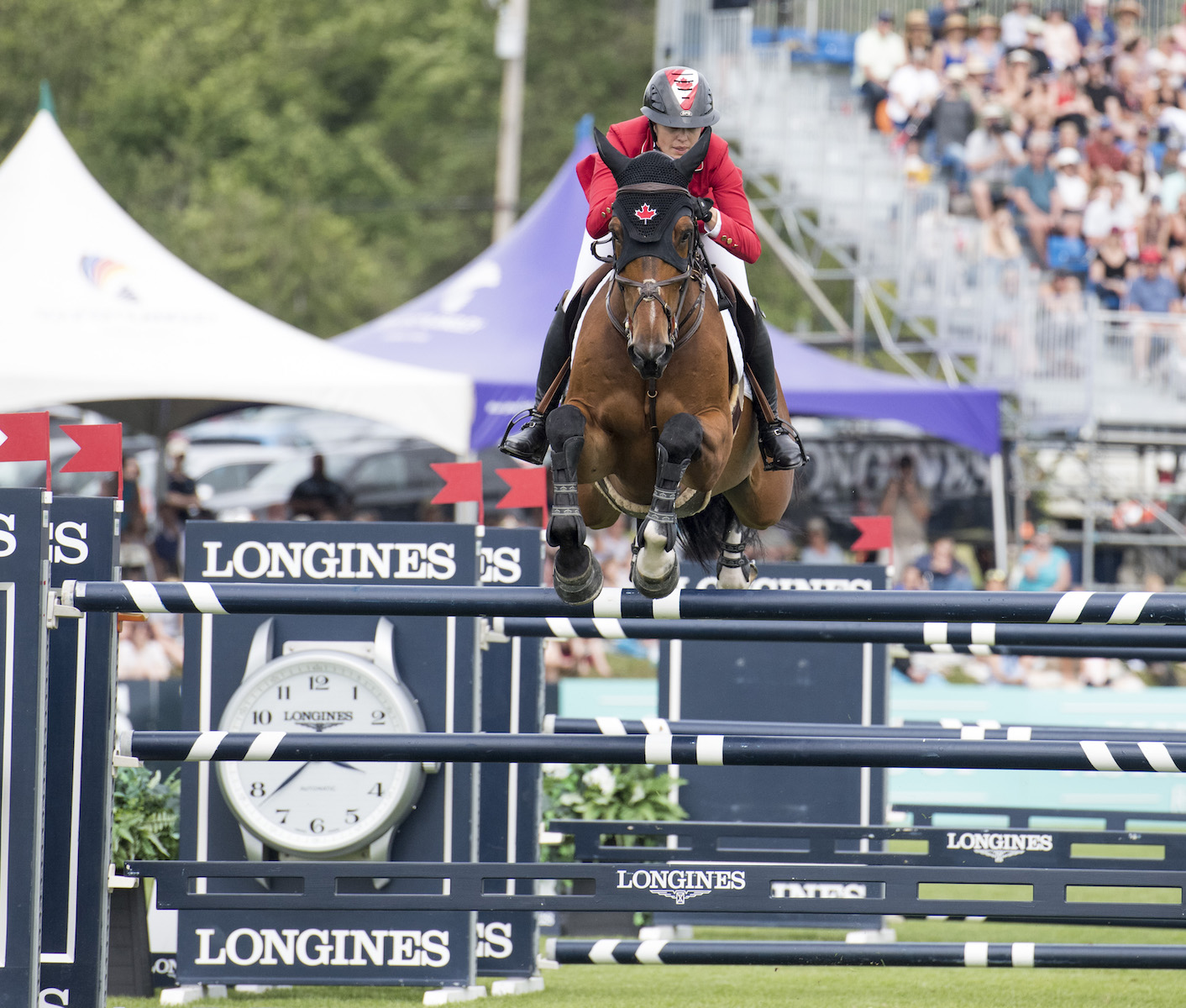 Tiffany Foster of North Vancouver, BC, and Figor, owned by Artisan Farms. Photo by Cara Grimshaw
Ireland added nothing to its team total in the second round, finishing as runner-up with a score of eight faults. The United States placed third on 12 faults while Mexico, who had won the first two events in the series, finished fourth with 16 faults. Israel rounded out the field in fifth with 40 faults. Canadian course designer Peter Holmes had set a fair track on Thunderbird Show Park's grass field that tested the horse-and-rider combinations without having the time allowed of 80 seconds play a major factor in the final results.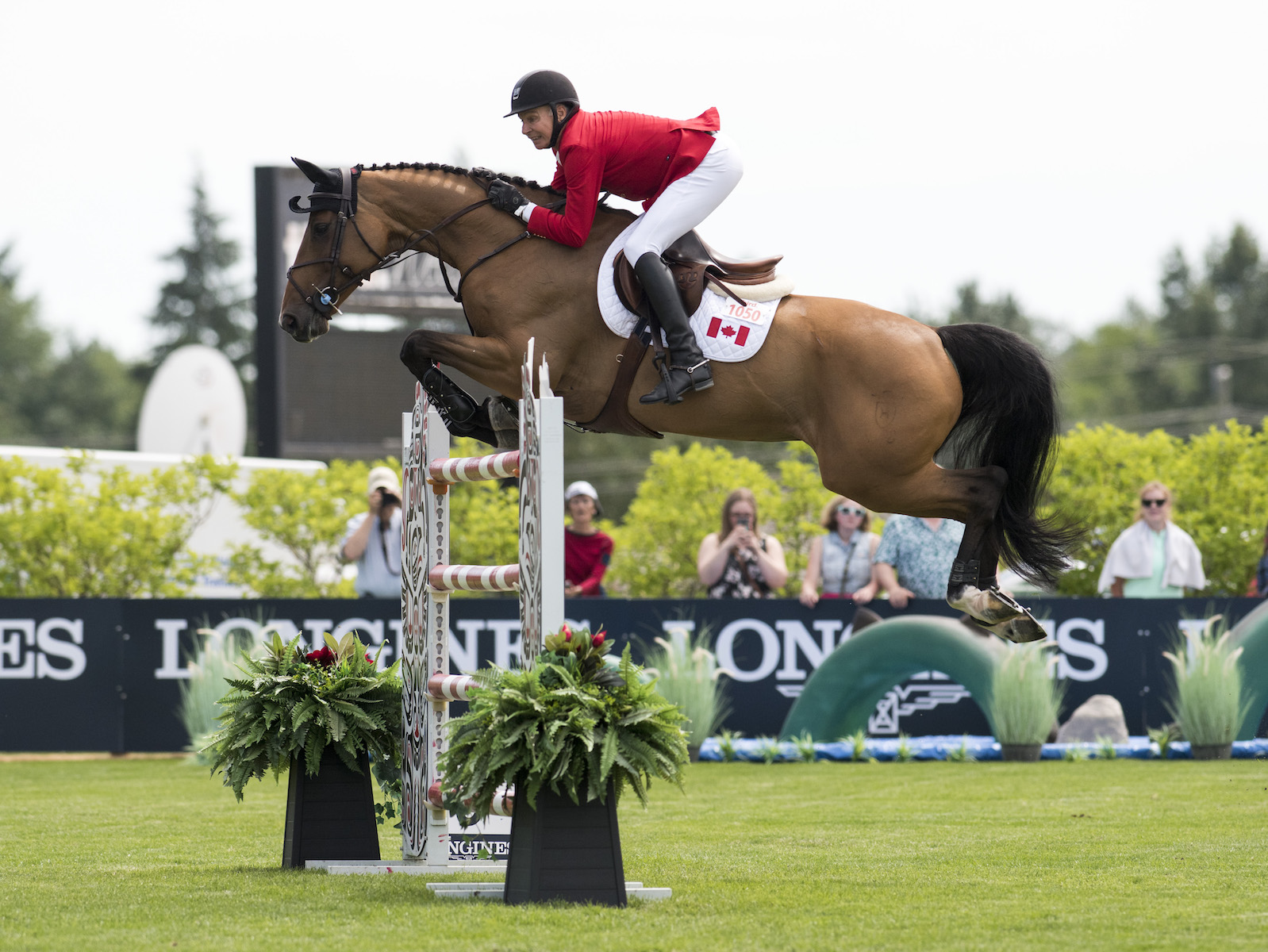 Mario Deslauriers of New York, NY, riding Bardolina 2, owned by Wishing Well Farm LLC. Photo by Cara Grimshaw
"All of my teammates did a great job," said Deslauriers, 54, who was also a member of the Canadian team at last year's event with Bardolina 2, a 10-year-old Holsteiner mare (Clarimo x Landos) owned by Wishing Well Farm LLC. "My horse came from showing a few shows back east and then we are going to Spruce Meadows next week. We have a long summer with the Pan Am Games ahead of us so there is still a lot of jumping to do. She's just turned 10; I think she's getting seasoned and getting better and better so we'll save her legs a little and go on to the next place."

Although Deslauriers did not take a shot at the bonus money on offer to any rider able to jump two clear rounds, his teammates were delighted to divide the spoils. Carlsen and Walker, along with Ireland's 22-year-old anchor rider, Cormac Hanley, and Richard Spooner and Eve Jobs of the United States, shared in the $80,000 (€50,000) bonus.

"I'm very happy to win!" said Canadian Show Jumping Team chef d'equipe Mark Laskin of Langley, BC. "It's fun to win anywhere, but especially to do it on home ground at Thunderbird, which has achieved world-class status and is attracting top riders. Our riders were solid, and it was a well-deserved win. It was great to have two double-clears and it could have been a third double-clear. It was Mario's decision to save his horse and you've got to respect that, that he's doing the right thing in terms of horsemanship.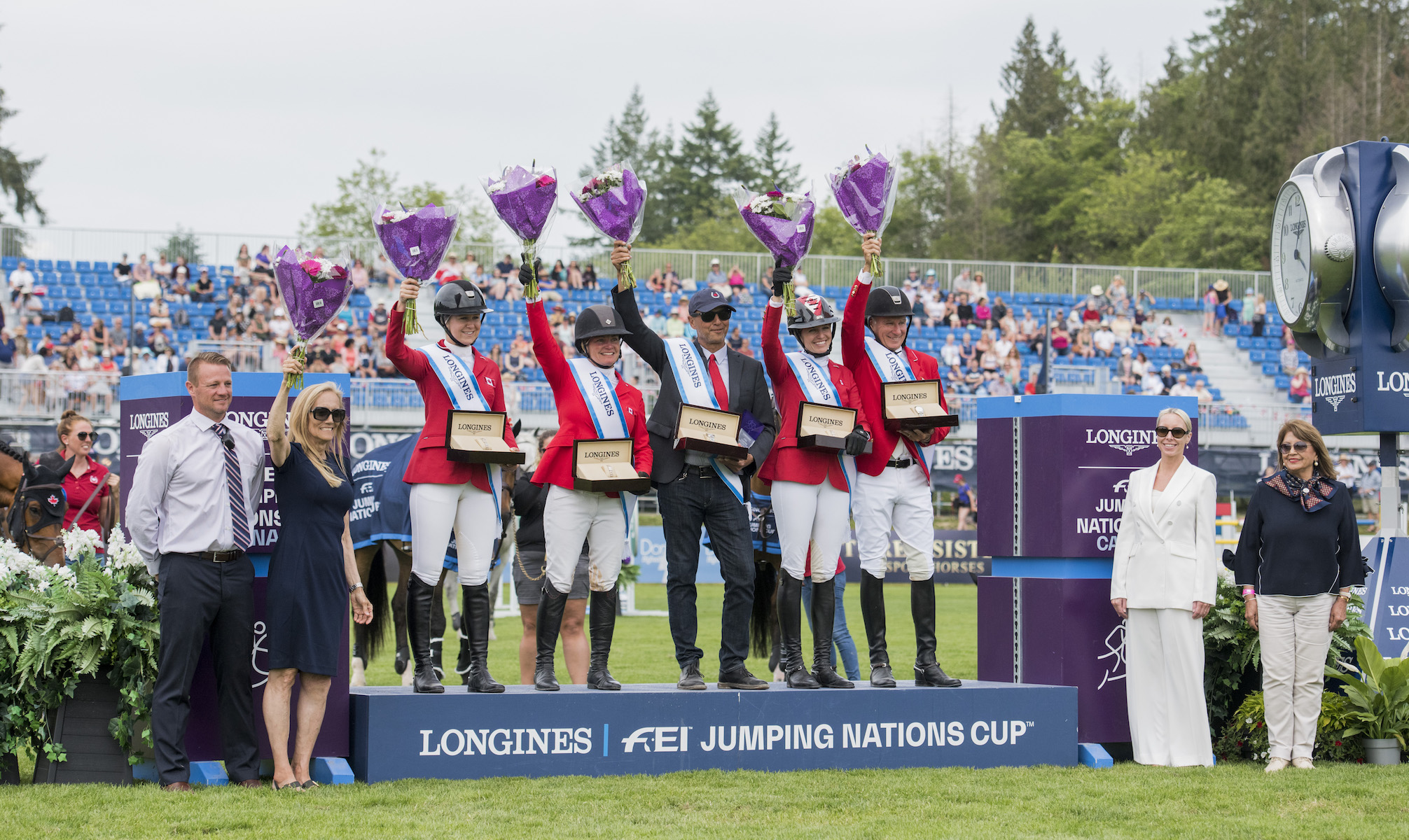 The victorious Canadian Show Jumping Team on the podium. From left to right: Nicole Walker, Lisa Carlsen, chef d'equipe Mark Laskin, Tiffany Foster and Mario Deslauriers. Photo by Cara Grimshaw

While the Canadian Team celebrated a well-deserved win on home soil, it missed out on qualifying for the Longines FEI Jumping Nations Cup™ Final to be held in Barcelona, Spain, from October 3 to 6, 2019. The Longines FEI Jumping Nations Cup™ Canada acted as the third and final qualifying event in the North America, Central America, and Caribbean League. When the points were tabulated, Mexico and the United States earned the two starting positions on offer while Canada finished third in the overall rankings.

"For me, it's bittersweet," said Laskin. "There are two parts to the equation. We took care of part A but we were short on part B. I'm happy to win but I always have the big picture in mind so it's disappointing not to quality for the Nations Cup Final. The Americans needed to be fourth in order for us to qualify and they were third."
For more information on Thunderbird Show Park, visit www.tbird.ca .